Schultz Engineering Project: Building an Electric Streamliner
Chapter 2 - Taking the BugE Apart
(Schultz Engineering Home Page)
(Click Here for a Printable version of this page)
(Previous Chapter)
(Next Chapter)
(Project Overview)
Coming Apart - December 2008
After driving my BugE a few miles, and researching what other BugE builders have done, I'm ready to start taking my BugE apart and rebuilding it with a full fairing.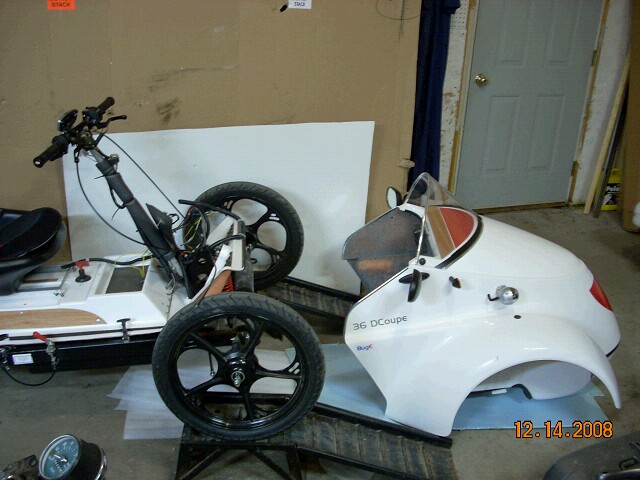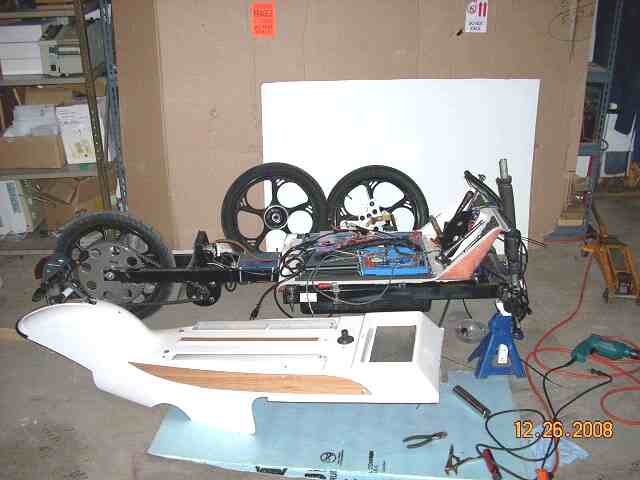 Documenting Vehicle Mass - December 28, 2008



Before disassembly, the BugE weighed 356 pounds.

The fiberglass body items and seat in total weighed 89.5 pounds:
(The nose and windshield assembly weighed 41 pounds,
The seat pan with taillights and rear fender piece weighed 18 pounds,
The battery box weighed in at 15.5 pounds.
The seat weighed 13.5 pounds
The motor cover weighed 1.5 pounds)

The batteries weighed 120 pounds (3 at 40 pounds each).
The charger weighed 10 pounds

The rolling chassis as shown below with motor, motor control and wiring still in place, weighs 130 pounds (weight at the rear wheel is 65 pounds, the front right wheel is 30 pounds and the front left wheel is 35 pounds).