I Purchased our BugE on E-Bay Sept. 7, 2008
This BugE is a 2007 vintage kit (no rear suspension) originally built in 2008 by Ed Gunderson of Creswell, OR. It is a 36volt machine with a large, fast charger (20amp) taking the place normally used by the 4th battery.
Ed built his BugE as an open roofed, cool looking vehicle intending to use it to commute with his Surfboard to the Ocean. But, he soon found he was driving the BugE instead of his bicycle, so he decided to sell it to fund a HPV. Here's a picture of Ed driving our BugE in the 2008 Earth Day parade in Oregon with his surfboard on top.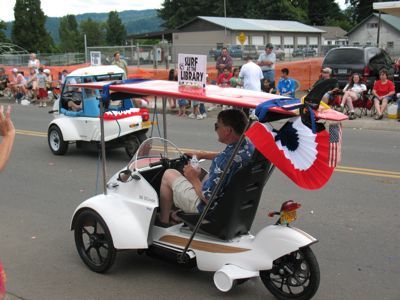 In 2008, I had been struggling to design and build a fully stream-lined three wheeled, electric vehicle. I was stuck on the compromises required for the front steering and suspension (i.e. it must be strong but extremely light weight and aerodynamic). So, when Ed's BugE became available on E-bay, I was happy to get it. My intention is to benchmark it's performance and improve its aerodynamics during my daily commute to work 10 miles from home. Based on my experience with the BugE, Schultz Engineering may develop some BugE aftermarket products for BugE builders.
This is a picture of the BugE being crated at Tom Smith's Fiberglass in Eugene,
(notice Scott Smiths BugE in the background)...
BugE Arrived in Michigan Sept. 17, 2008 with a smashed shipping crate, but the BugE was fine!
Licensed and Insured for Michigan Sept. 18, 2008!
This process was painless because it was previously titled, licensed and insured as a motorcycle in Oregon.