High Performance Tilting Trike Suspension Bench Mark: August 10, 2009
I helped my friend, Kale Kotecki, wire this proto-type trike. He calls this proto-type "Sparky" in memory of a dog he once had. It has awesome brakes and suspension, four point safety belts, roll cage, reverse, etc. A much safer design than my BugE. Kale let me borrow Sparky for a day to benchmark energy usage.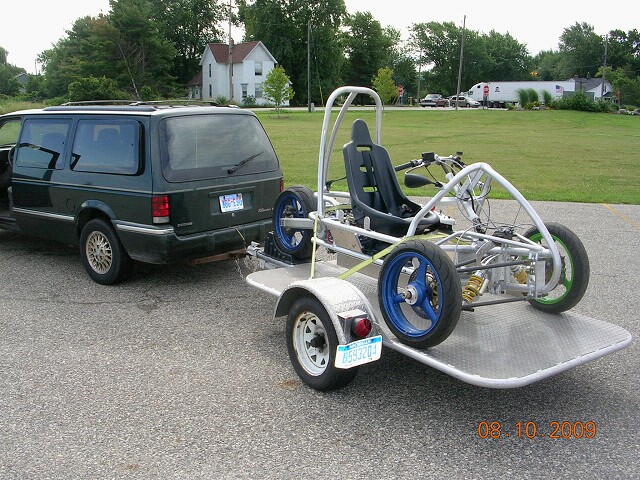 Here is Kale, showing how light his trike frames are.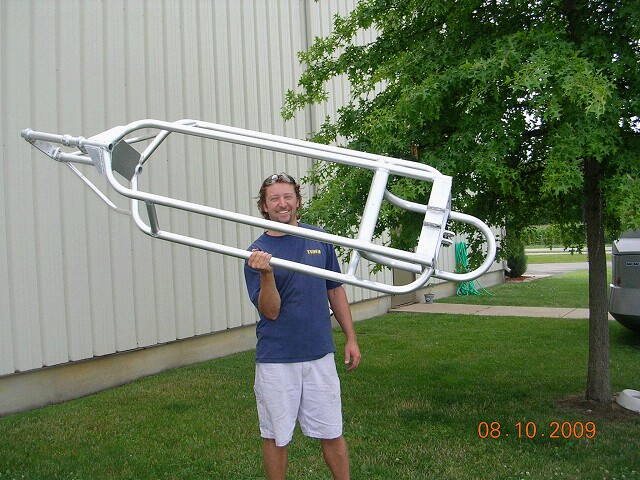 Sparky was running with the following components:
D&D Motor Systems, Inc. ES-15A-6 Series Wound DC 40Hp Motor
(62 lbs motor weight)
Alltrax 7245 450Amp Motor Controller at 72 volts
Six (6) B and B EB50-12, 12.00 Volt, Lead-Acid, AGM Batteries
(220 lbs battery weight)
2001 Kawasaki ZX6R Motorcycle Wheels
Hydraulic disk brakes on front operated by single handlebar brake lever
530 chain, 15 tooth drive sprocket, 60 tooth rear sprocket. 4:1 ratio
CH-H01200100-US-W1 6 onboard 12v chargers connected to each battery, 10amp.
Test Weight during run - 616 pounds Plus 190 pound rider = 806 pounds
Test Results based on 8 miles running at 28mph including one half mile run at 49mph:
2.5 KWH to recharge after 8 miles (312 WH/Mile)
Drawing 3,240 Watts (Averages around 45 Amps at 72Volts) at 28 MPH
Drawing 11,160 Watts (155 Amps at 72Volts) at 49 MPH
Max Speed 50mph due to gearing
I locked out the tilting function for my test rides
Incredible acceleration
Nice ride due to suspension
Braking is smooth, powerful and no torque steer
Has reverse with an electronic chime lets you know you are in reverse (nice!)
Tires were inflated to 42psi per specs on tires
Surface of tires were noticably hot during test ride- these are wide tires with a significant size contact patch
The chain was rubbing on chain tensioner making a lot of noise during test ride
There was a LOT of wind in my face and body at 50MPH. There was no fairing or aerodynamic body work on the vehicle during the test ride.
I let my wife test ride it around the house. She was very impressed with the comfort. As usual, it was not long before she was out on the grass burning rubber. She won't ride my electric motorcycle, but said she would ride with me if she had a trike like this one. She said, "I want
you
to build me one like this."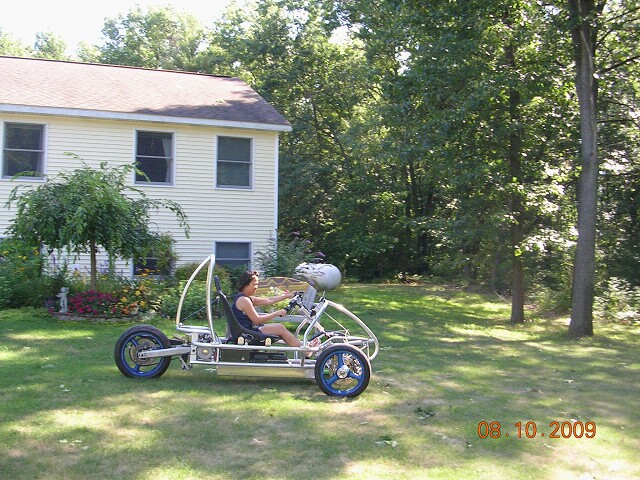 She thought the turbo mode was too powerful and turned it back down to tame.
Here is Sparky next to my BugE. Sparky was drawing exactly twice the power of my BugE at 28 mph test speeds (3,240 watts vs. 1,620 watts)
I would recommend going to narrower tires and adding an aerodynamic body and canopy to make this vehicle use less energy. Also, less motor and battery weight would help. Recharge energy seems a bit high - are the six cheap Chinese chargers inefficent? More testing should be done to verify this recharge cycle was not a fluke.
Sparky and my RV-8 Canopy would be a good fit. The test rides were without Canopy. Sparky really addresses all the problems I have with my BugE ( suspension, brakes, lack of reverse). It also has better safety with seat belts and roll cage along with a bit higher ride height making visability better. Entering and exit is not bad. Certainly much easier than the stock BugE, because there is lots to grab onto when entering Sparky and the seat is higher off the ground than the stock BugE. So, the main question for Sparky is how to get its energy usage down.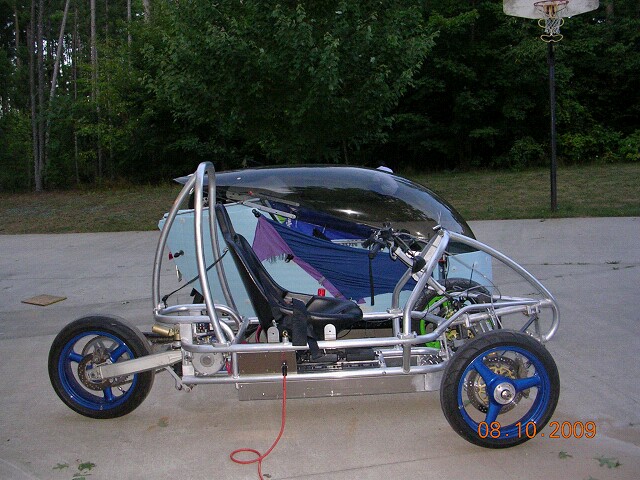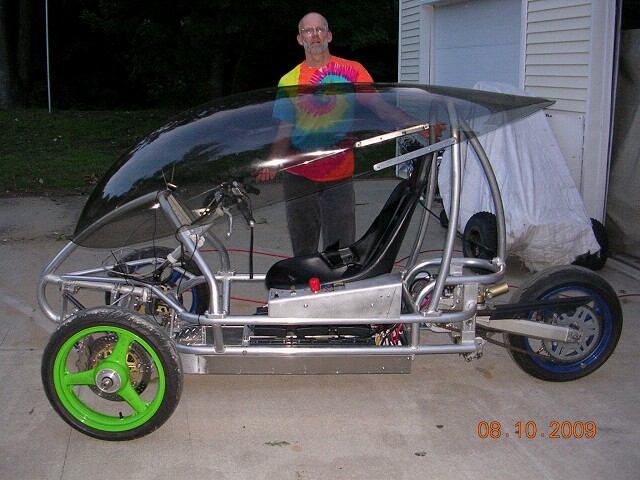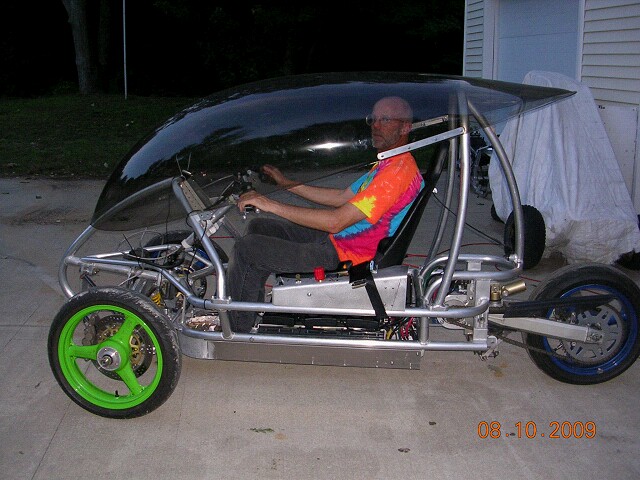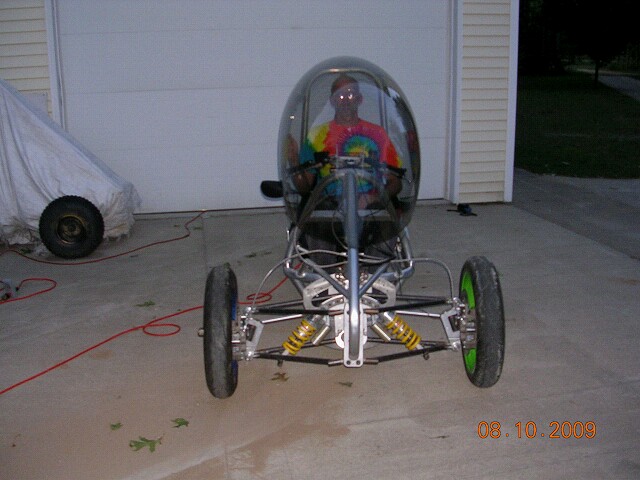 Maybe canopy should be pushed farther forward like in this picture (to cover more of the front of the bike)?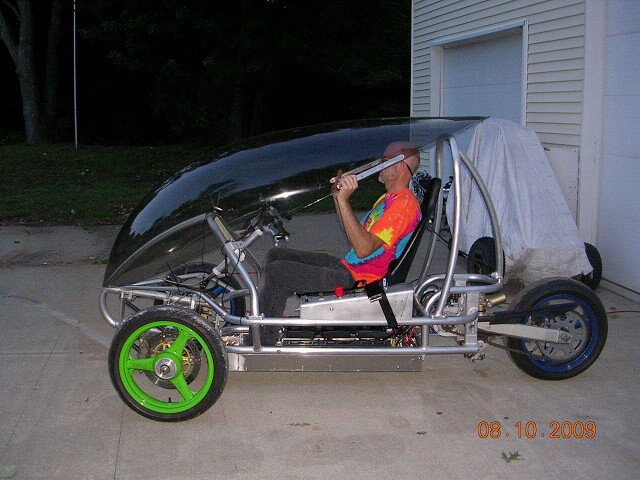 September 12, 2009 NOTE:
Kale and I did a little acceleration experiment today. From a standing start we raced Sparky against my 1994 Plymouth Voyager for a short distance (60-75 yards?) in a parking lot. It was a dead even up to our agreed finish line. We were going about 35-37mph at the finish line. My van weight with me is about 4,000 lbs. and it has a 3.3L (approx. 150Hp) engine. I was in low gear but, since I thought I would do better I did not power brake. This test simulates pretty well what might happen at a street light on the road. Two drivers do a full throttle take off vying for position. The car driver didn't expect the electric vehicle to be so quick, so he didn't power brake and "Dang! That electric vehicle is QUICK!"
Weight to Power Ratio of Sparky = (600 lbs veh + 200lbs passenger) / 40Hp = 20 lbs / Hp
Weight to Power Ratio of my MiniVan = (3800 lbs veh + 200 lbs passenger) / 150 Hp = 26 lbs / Hp