<![if !supportEmptyParas]> <![endif]>
Cargo Bike
Why Cargo Bike?

To Achieve several of the 2015 Riding Season Goals the bike needed to be able to carry cargo more easily:


Compete (and WIN) Vetter Challenge at VMD in Ohio, (for this I'd need to carry LOTS of batteries).
Go on a mini tour/vacation with the bike


Also, since this bike is primarily used for commuting (going to and from work, running errands, picking up supplies, etc.), the ability to carry cargo is key to it being a practical vehicle.


Mounting Concepts for Chevy Volt Battery Packs - May 1, 2015

If the D-11 is setup with a Cargo Bike rear end set-up, it will be easy to add 5kWh packs to the bike as needed to extend range and/or haul tons of cargo.

Here's a picture from http://www.thebicycleworks.org/ of the kinds of cargo that a bike with a nice rear end can haul.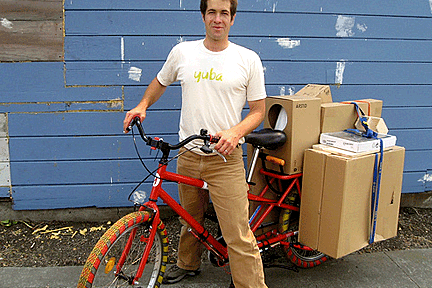 Sometimes it will be all cargo, sometimes it will be an extra person or two, sometimes it will be all batteries for extra range. If setup correctly, it will be easy to change over to whatever is desired for the ride of the day.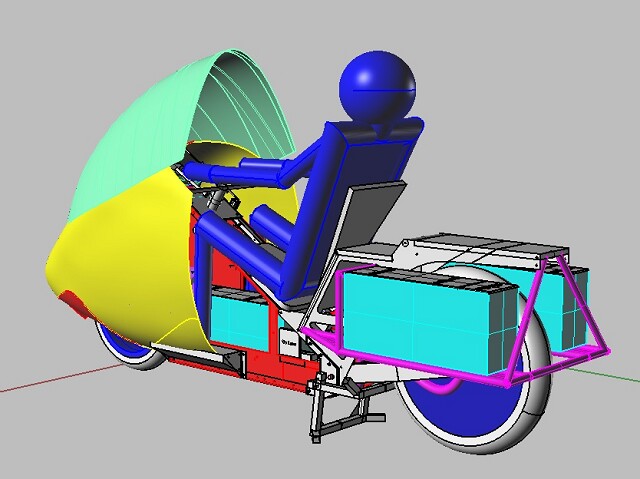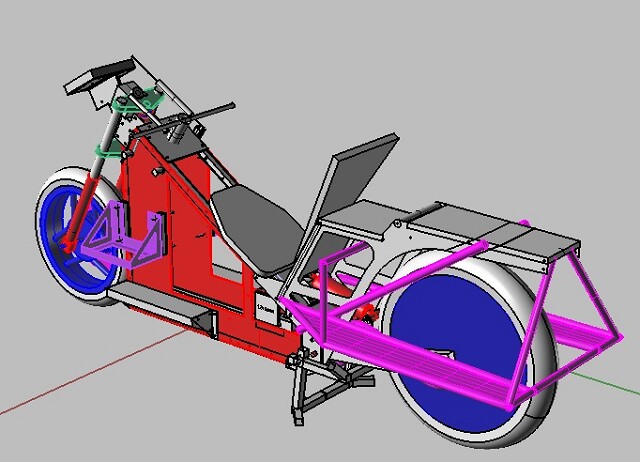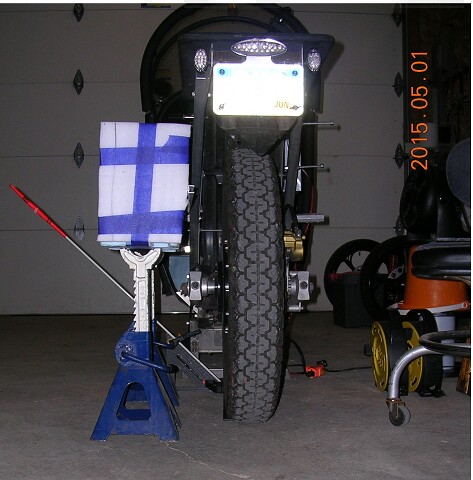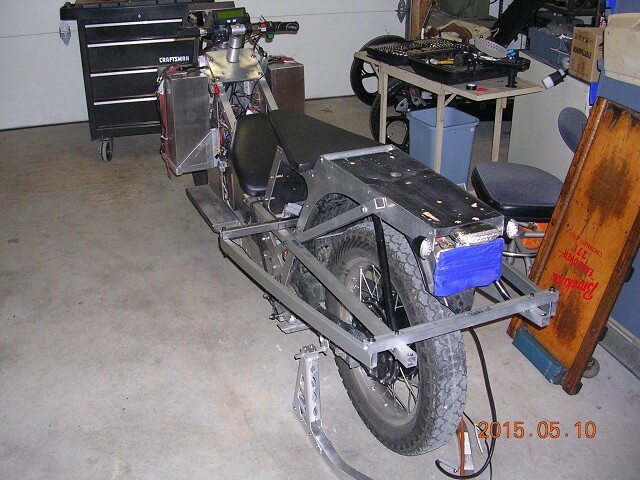 Test Ride with 300 Pounds of Battery's - May 3, 2015

This test ride did two things. It verified a 5kWh chunk of the Chevy Volt battery would operate the motorcycle and that the bike handling was good with 100# of batteries mounted high on the tail.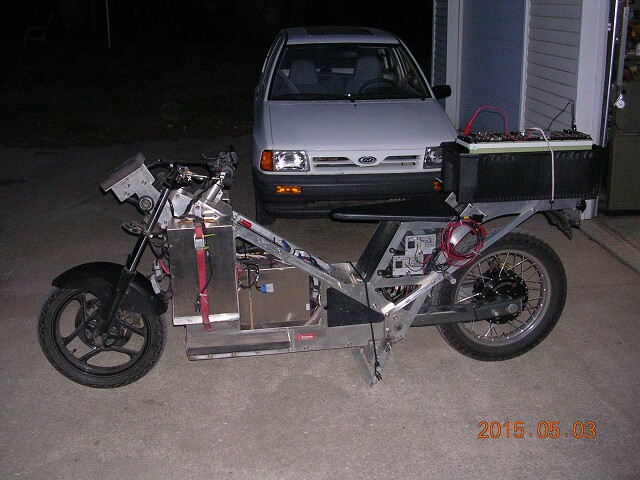 Work Day - June 4, 2015

Did a test ride with 200# of batteries on the tail. Put in a heavier rear shock and that still is not enough. I need an AIR SHOCK! An air shock will help compensate ground clearance for my ever changing vehicle weight, and it would help me lift off and sit me on my centerstand when parking.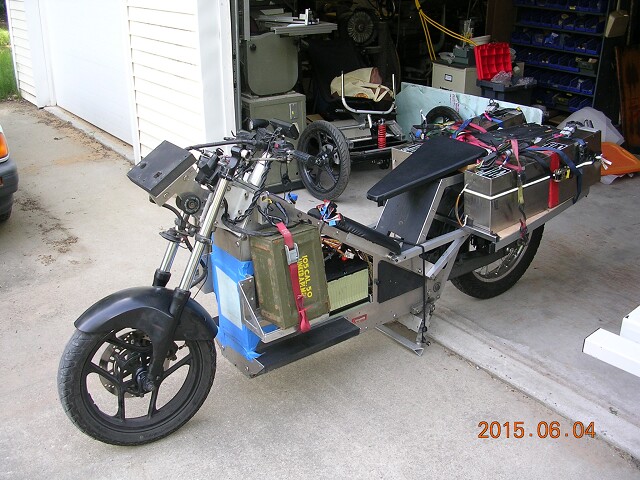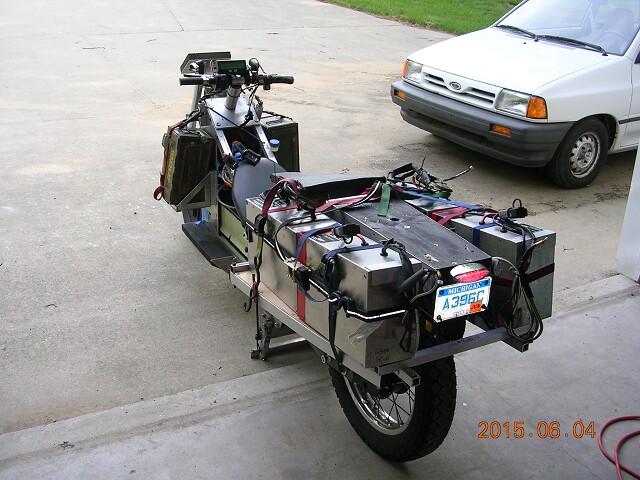 Air Shock - June 8-9, 2015

Purchased a used air shock from a Ninja 900. This hopefully will allow me to raise and lower the bike off the centerstand allowing easier parking with various weight configurations and on uneven parking surfaces like in campgrounds. The shock looks very large, but the diameter is very close to the Yamaha Seca 2 shock next to it. It is 1" longer, but the D-11 already had adjustability for that built in.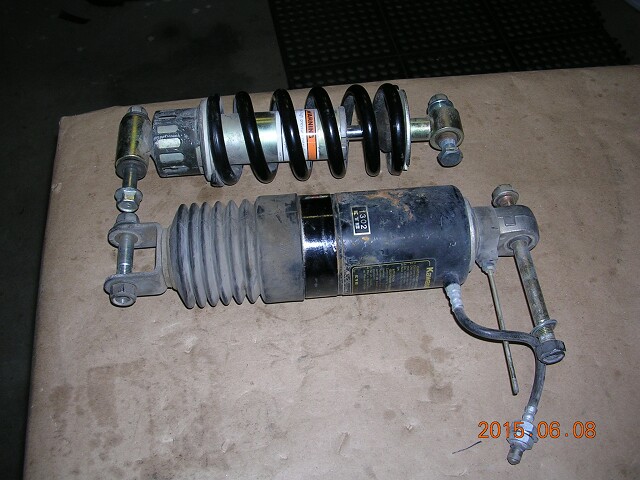 Made new custom pillow blocks to fit shock on bike (needed extra clearance for the air filling and ride stiffness adjustment rod).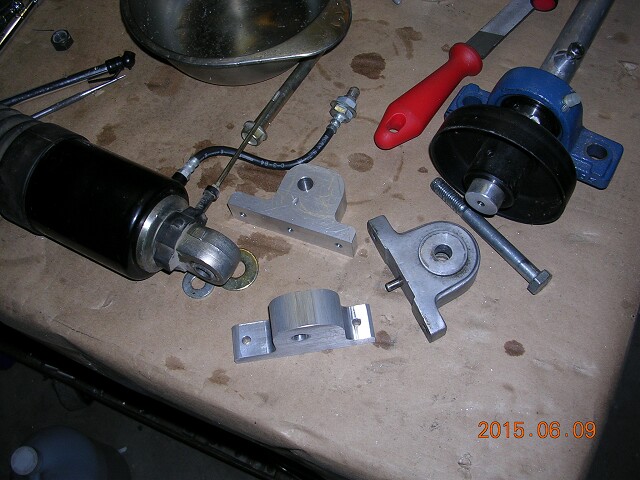 The air shock was interesting, but didn't work as well as hoped.

The adjustable ride system (air or mechanical) that is on the Honda Silver and Gold Wings is probably the best solution for this bike, but it is expensive.

In the mean time, I implemented a quick and dirty work around. I went back to the heaviest spring shock I had (from a 2010 Yamaha VStar 650 Classic - visually identical to 1992-1996 SECA 2 shocks but with stronger spring). This is mechanically adjustable to give different ride heights. Along with adding some bar clamps to give outrigger's for supporting the bike when on dirt or uneven surfaces.


Various Configurations - July 2015

Configuration 1: Put's extra battery weight on tail up high and makes it so outriggers are not required unless on uneven or soft surfaces. This is the most efficient configuration for longer rides because aero drag is less. Range in this configuration is 55-60 miles at normal commuting speeds (45-55mph).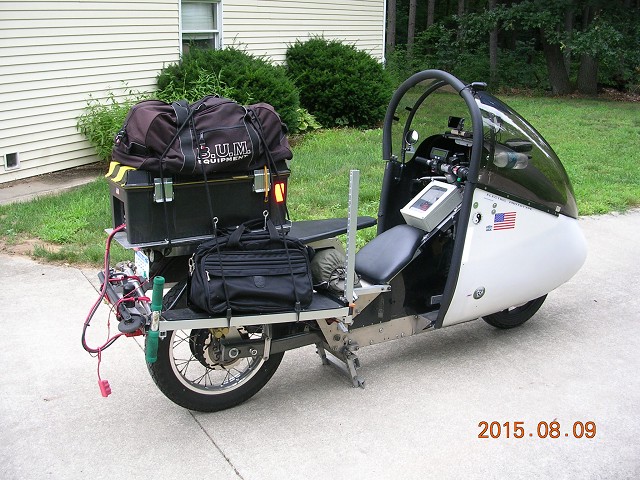 Configuration 2: Put's lots of weight on the trailer (battery, chargers, etc). So, the tail of the bike is light and outrigggers definately required, unless shock is adjusted.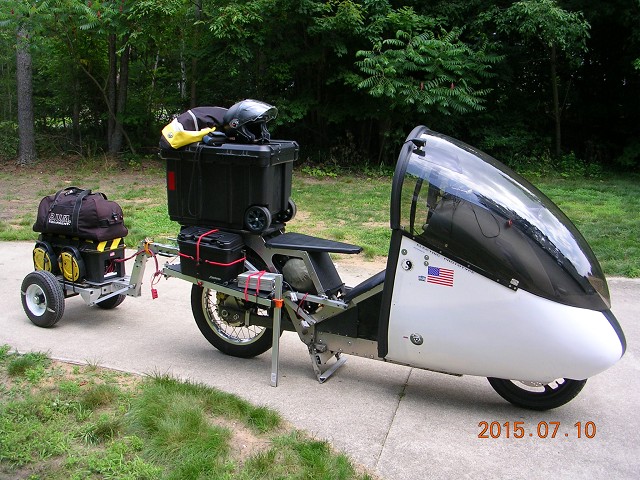 Configuration 3: Put's a passenger seat on the bike. The trailer is not shown attached, but with a passenger, that's the easiest way to have more batteries or cargo.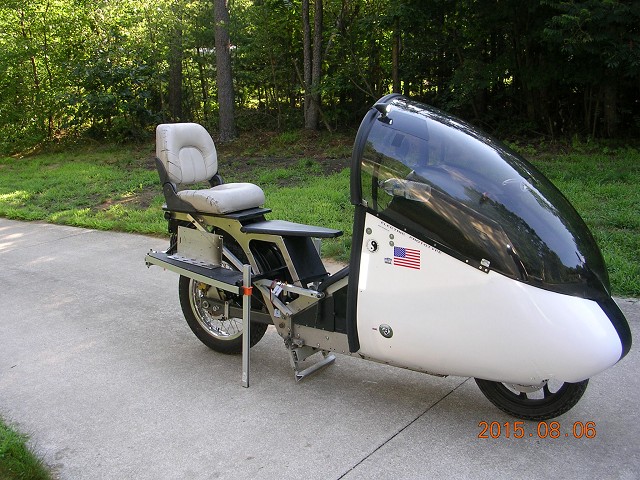 NOTE: There are common mounting hole locations between the trailer and the tail of the bike so everything can be swapped from trailer to bike. Threaded inserts, eyebolts with wing nuts are used so that no tools are required and extra bungy cord connection points are achieved.


First Trip - Mid-Ohio Vintage Days- July 2015

This was first loading technique and I had weight distribution too high (heavy stuff in the top bag and chargers were somewhat high.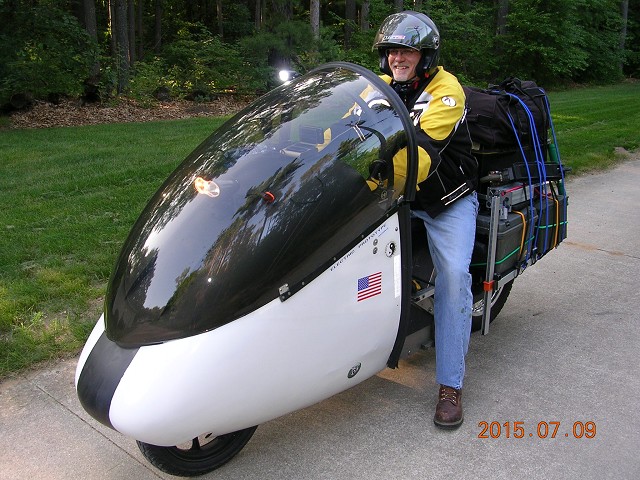 A nice setup putting most of the weight on the trailer. The problem is the trailer aerodynamics are bad (needs aero fenders on the wheels), and bag covers brake light and turn signals on bike.



Had fun riding with Richard Goff and Ben Nelson in the Fuel Economy Competition (in the rain!). The waterproof boxes for the chargers were just the ticket!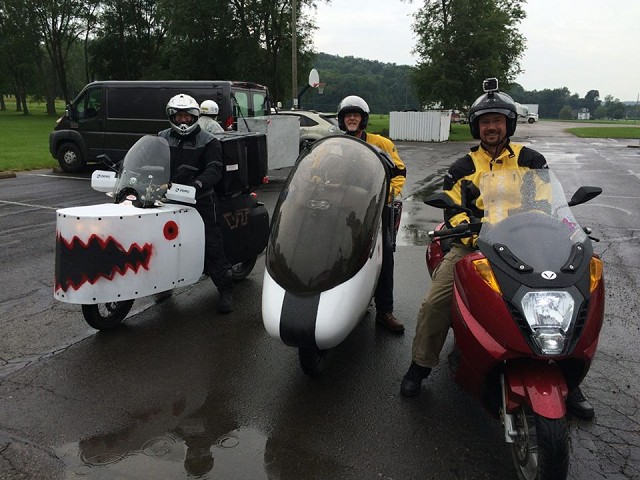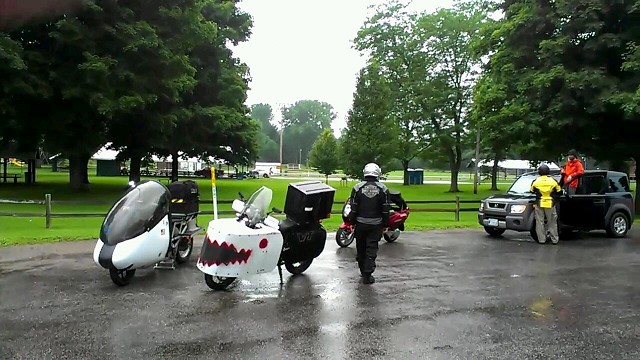 First Camping Trip - Loop the Lake with Ben Nelson - September 2015

Fast Charging with four chargers on RV50 outlet in Baldwin, Michigan.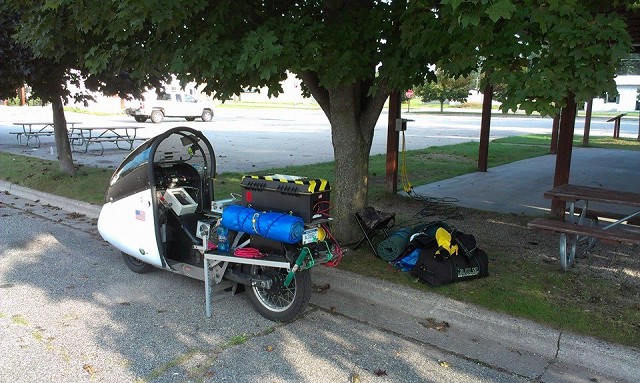 Camping at State Park in Ludington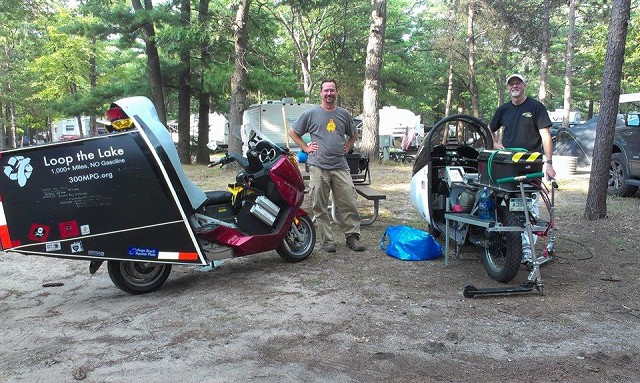 Recharging in the rain under bike cover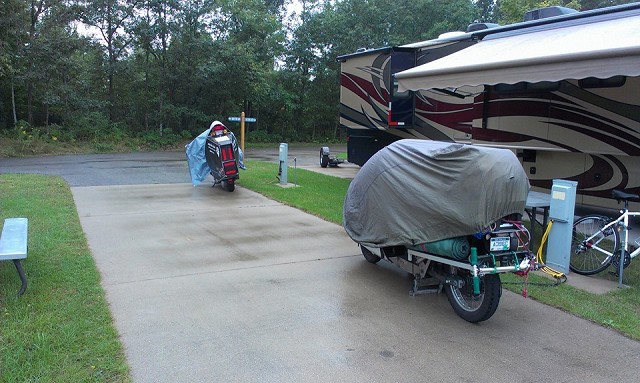 Riding into the sunset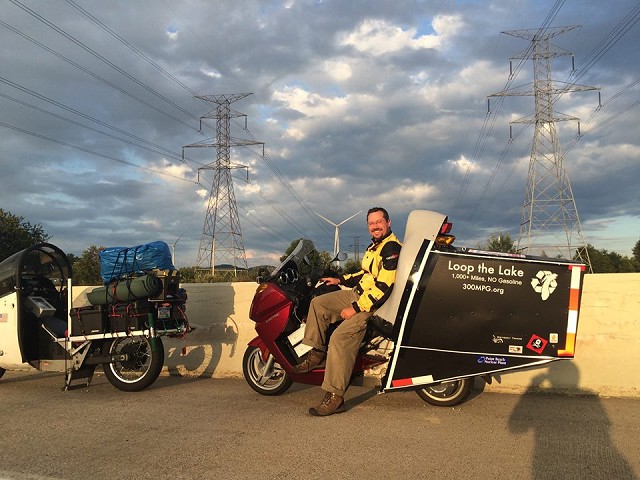 Tony rides with us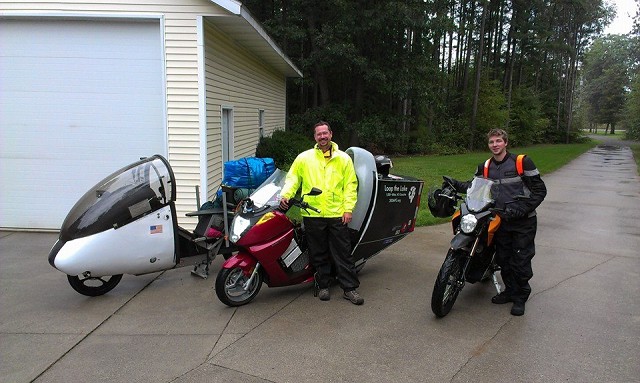 Mini Tour - September 6-8, 2015

On Saturday, September 5th, I packed the bike to be ready for a mini camping trip in conjunction with Ben Nelson's "Loop the Lake".
Here's my gear together for an overnighter trip. Includes 3 boxes of charging equipment...




On Sunday, September 6th, I rode from my house south of Grand Haven to Baldwin and then to Traverse City where I met Ben and camped at Ludington State Park. Total Miles for the day: 164

First pit stop in Ravanna.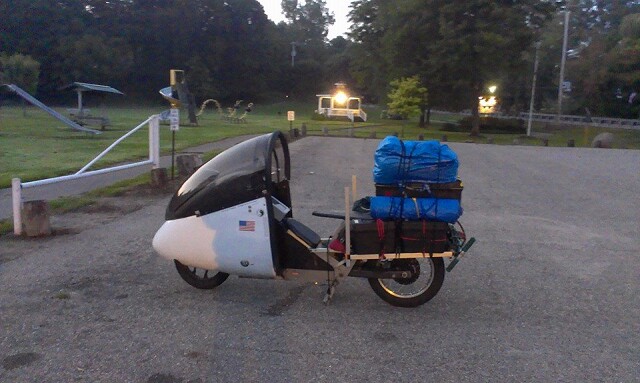 Charging on RV50 in Baldwin behind Jones Ice Cream Store



Arrived safe and happy at the Ludington State park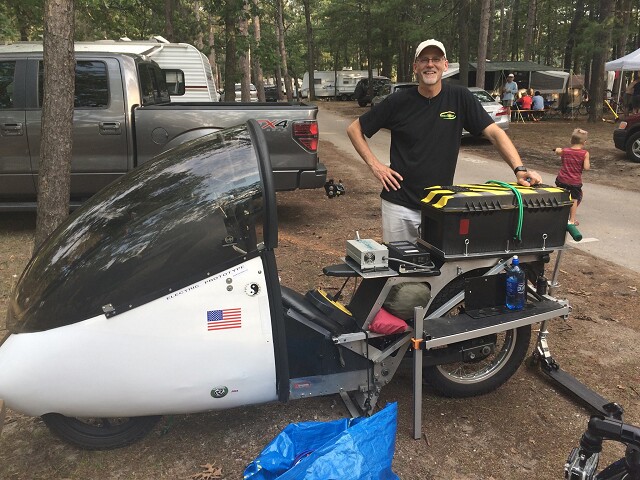 Ben Nelson and his Loop the Lake Vectrix bike with Nissan Leaf Batterys.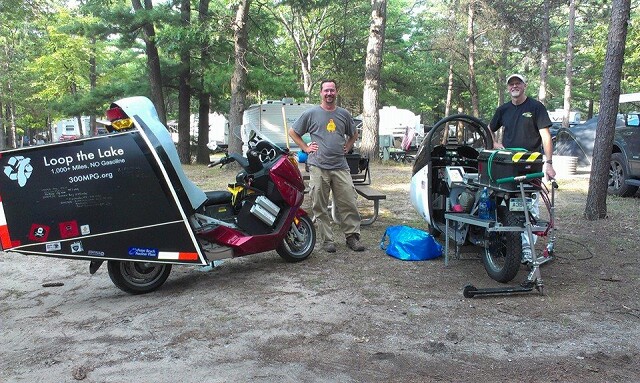 On Monday, September 7th, we packed up ready for rain. I rode with Ben from Traverse City to Manistee, to Ludington, and then to my Parents house near Twin Lake to stay the second night. Total Miles for the day: 158

Here I am packing the bike. I eventually moved swapped the tent and the sleeping mat from side to side to balance the load this balanced the load and made the steering balanced.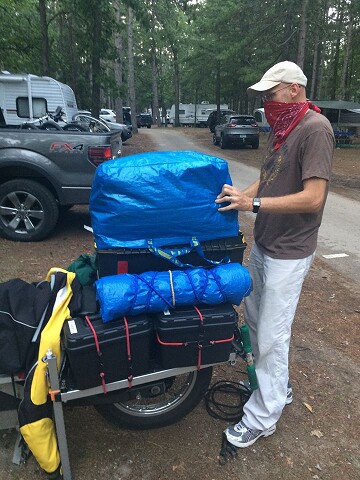 We rode rain free all day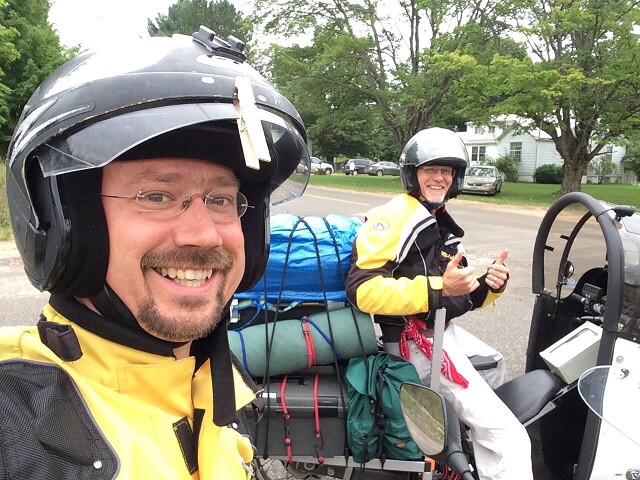 However, we did charge in the rain.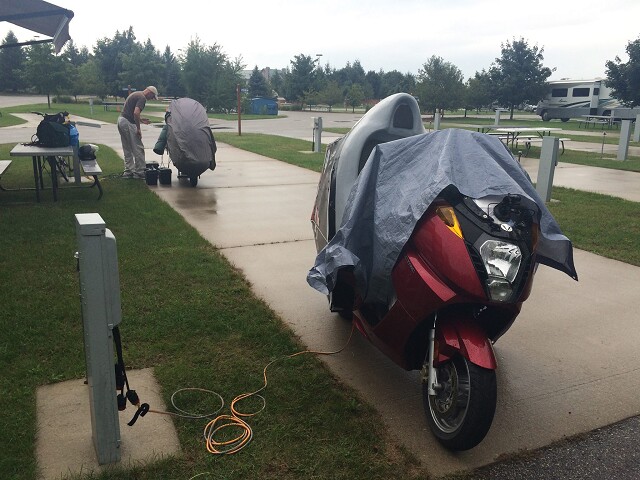 Trying to beat the Sun to bed Monday evening. The Sun won.



On Tuesday, September 8th, I rode with Ben from Twin Lake to my house where we worked on Ben's seat and then with Tony Helmholdt (riding his 2014 Zero DS) rode to Sagutuck for Lunch.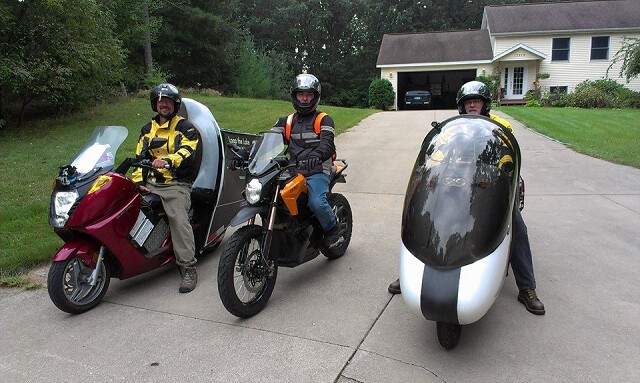 Charging all the bikes at once from the outlets in the Sagutuck park near the marina. All bikes were fully charged when we were done with lunch.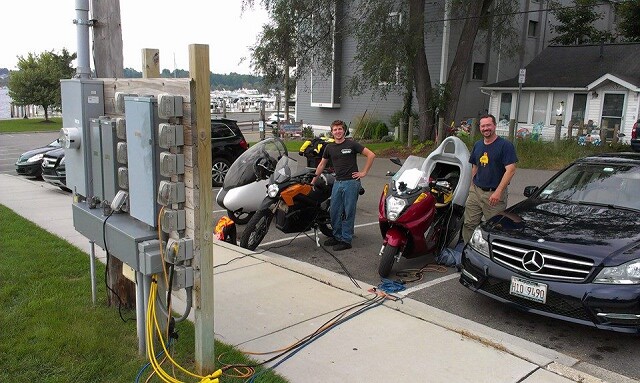 I rode home in a heavy rain. The biggest problem is that water mist is getting in where my feet are from the front wheel - I'll need to put the cold weather baffle in place whenever I think it will be raining during a ride.

Lessons of the Loop the Lake Tour - September 2015

SOCIAL ASPECTS:

Be friendly and people will overwhelm you with hospitality

It's fun to ride with another motorcyclist
If you see someone sitting on a porch looking lonely, stop and talk with them

Take lots of pictures with people in the pictures. Pictures of stuff without people in them don't mean much

SCHEDULE AND ROUTE:

Ride between the rain drops, not through them - use rain to rest, recharge, socialize, eat, blog, etc.

Don't be in such a big hurry, it's a tour, what's the rush?
Enjoy the ride (Put extra time in the schedule to stop often and check stuff out)

100 miles a day would be plenty for a tour with lots of stops

Route the ride to avoid 1+ hour long streches of boring view

Avoid highways! Get on the back roads, visit all the small towns and villages you can, they are more fun

Plan extra time for socializing. Every encounter can easily turn into a 20 minute chat.

It will take longer than you think

People are really friendly and helpful at State Parks
Be flexible - ride where you want, be open to changing plans and routes - enjoy the freedom to explore
An open tour plan might be: I'm heading ______ towards ______ for ___ days and then heading homeward for ____ days.

CHARGING:

Frequency and length of charging is GOOD for social aspect of the ride

When stopping for anything, always plug in first. Once plugged in take your time, talking, sightseeing, resting, eating, whatever.

Plug in must be fast and easy. Plug in and walk away

Charge adapters and extension cords should be mounted for quick retrieval and storage

Most homes can't support FAST charging (i.e. four separate 110VAC outlets/bike) & certainly not multiple bikes

If bike won't call you if the charge aborts for some reason (circuit breaker trip, GFI trip, etc.), must manually check on charge status every once in a while.

Public parks have great charging, there is free charging everywhere, you just need to find it.
Share good charging spots on Plug Share
Charge your phone when you are charging your bike - or have onboard adapter to charge phone when riding
Have a way to safely recharge in the rain

GEAR:

In Bold Letters on outside of Bike: 100% Electric, RANGE=, TOP SPEED=, RECHARGE TIME=

Must be able to secure the bike and gear and walk away

Cargo must be balanced for weight side to side

Have a day pack mounted that's easy to reach during ride and has everything you need for the day

A center storage bin in front of rider is very helpful for the little stuff, hat, sunglasses, snacks, etc.

Need paper towels in pockets of riding jacket

Need a comfy seat!

You will ride in the dark - have flash light handy for setting up camp, finding gear in the dark, etc.

The Razor Scooter is AWESOME! Don't leave home without it.

Navigtion APPS suck batteries, have an onboard adapter to charge phone when riding

FOOD:

Always have a stash of non-perishable food on the bike for each meal - this will save time, money and give more ride flexibility

Always have water and snack available for snacking while riding without getting off the bike.


Second Camping Trip Very Practical and Fun - September 2015

Getting ready to head out for a weekend camping trip with my son.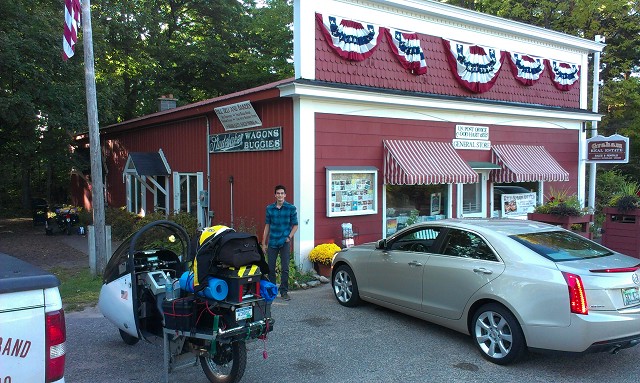 Sleeping Mat=1#, Ammo box with Charge Adapters and 1 Charger=15#, Ammo Box with Zivan Charger and Timer Box=11#, Large Bag with clothes & Sleeping bag=15#, Camp Chair 2.5#, Large Tool box with Charger 2&4 with cooling fan=17#, Day pack=6#, Tent = 9#.
Total weight of chargers and camping gear = 76.5#
Plus 100# battery and 10# tools = 186.5# on back of bike!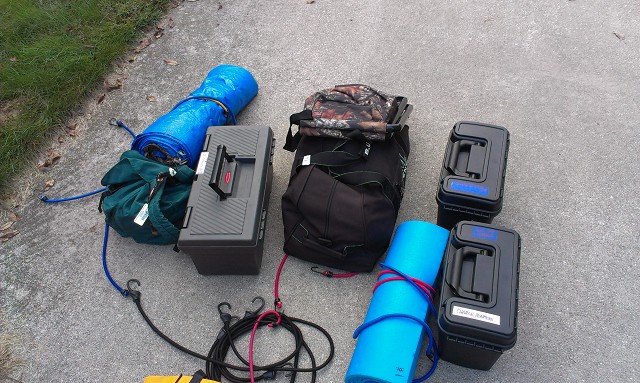 Lessons of Moped Ride with Nick - September 2015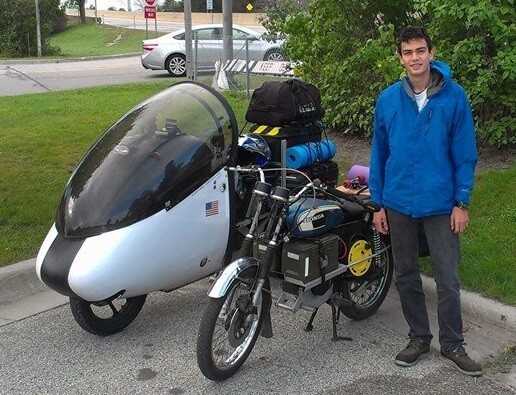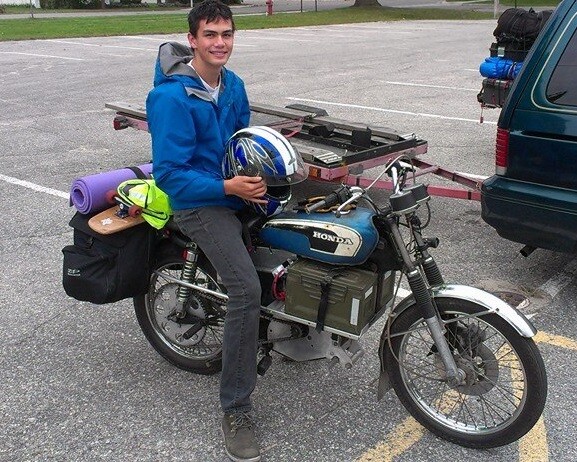 RANGE:

20 mile range for Moped is inconvenient. Moped needs range of 40-50 miles

SPEED:

30mph speed is good for twisty winding roads and city riding, but is boring for long, straight roads
25-30mph is great speed to ride beside each other and play around
Nick wants more speed
Why won't bike coast faster than 30mph on steep down hills?

CHARGING:

Need to have an onboard adapter to charge phone when riding
10-20 miles/hour charging is OK if you have 40 mile range.
Extension Cord mounted in Reel on the side is AWESOME!
Fast plug in with the on-board charger is super easy
Need a hand held plug tester to verify outlet has power before unreeling extension cord
If people don't like where you are charging they will have the power turned off or un-plug your bike
Charging is hard to find in Northern Michigan
Christmas tree lighting from outlets on the curb are turned off during the daylight
Need bike to call you when charging stops (lost power or charging done)

GEAR:

Blue Tooth Speakers (on board or in Helmet) for music would be nice

Cup holder for holding water bottle

BIKE CONFIGURATION (FEATURES):

Bars added to support the saddle bags are in way of foot pegs - need to redesign

Skateboard works almost as well as the Razor scooter - need a rack to hold it on the side

BIKE CONFIGURATION (SAFETY):

Throttle (acceleration) and top speed should be de-tuned for new riders

Need lights (& sound?) on dash to indicate bike is Live

Need Safety Interlock to prevent bike from taking off when throttle is stuck on during power up

Current throttle is sticky

Need throttle lock that disengages when brake lever is pulled
Wire brake switch in series with kill switch?

OVERALL:

People are really impressed by both bikes being together in one place

They like the looks of the converted Honda, they like the looks and performance of the D-11

(Next Page)
Inventing a better tomorrow today... Copyright 2015, Schultz Engineering, LLC, written by Kraig Schultz